Top Class Action Lawsuits
Last Updated:
June 2, 2022
Class action lawsuits are a type of legal case where one claimant represents a wider group (the class) in litigation against an individual or company, usually the latter. Sometimes unfairly tagged as being frivolous, class actions can often be serious legal challenges, highlighting wrongdoing on the part of a company. In many cases, these suits make the news headlines because the sums of money involved in class action compensation payouts can be huge, often running into billions of dollars. Below we discuss some of the more prominent recent class-action lawsuits in the United States:
Robinhood Class Action Lawsuit
Robinhood is a popular trading app with over 30 million users that allows amateur investors to trade items like stocks, ETFs, and cryptocurrencies. It is marketed as a way to "provide everyone with access to the financial markets, not just the wealthy." Robinhood gained fame as the trading app of choice for followers of r/wallstreetbets, a Reddit group that encouraged its followers to make trades of stocks, often going against the positions of large hedge funds. In January 2021, wallstreetbets encouraged its followers to buy stocks in GameStop, a video games store that had a low stock price and that several hedge funds had shorted (back the stock to fail). The wallstreetbets trade "won," and pretty soon, GameStop stock was soaring to unprecedented highs.
However, instead of honoring its brand name and letting the little guy get rich at the expense of the wealthy, Robinhood suddenly decided to stop allowing users to trade GameStop. Users of the app were irate, accusing Robinhood of depriving investors of their potential gains from the GameStop stock. A class-action lawsuit against Robinhood soon followed, stating that "Robinhood's actions were done purposefully and knowingly to manipulate the market for the benefit of people and financial institutions who were not Robinhood's customers." One Robinhood lawsuit was dismissed by a judge in January 2022, who claimed the user agreement allowed the company to act in such a way. Other Robinhood class actions linked to GameStop stock trading are still pending, however.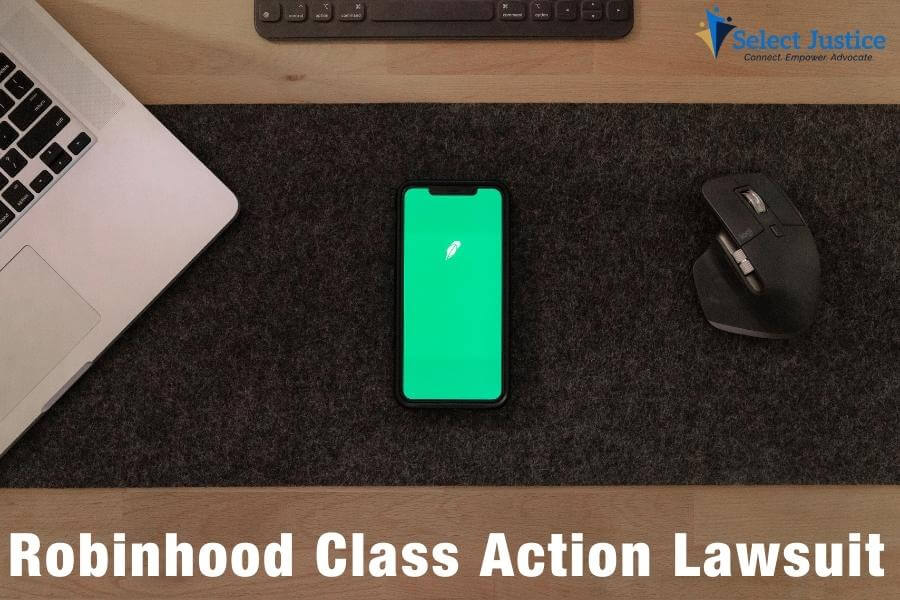 Zoom Class Action Lawsuit
Zoom, the video conferencing software company, was one of the early "winners" of the Covid 19 pandemic. As huge swathes of the population moved to remote working, businesses scrambled to give employees the tools for working from home. Zoom's stock price soared as millions signed up to use its software to connect to their workplace. On a social level, too, millions of people started to use Zoom so they could meet with friends and family online. However, it soon became apparent that Zoom was not as secure as it claimed to be. Moreover, Zoom was accused of sharing users' personal data with companies like LinkedIn and Facebook.
A class-action lawsuit against Zoom filed in March 2020 accused the company of several breaches of users' security and privacy. The infamous "zoom bombing," where uninvited users could suddenly gate-crash a sensitive business meeting, was one of the many security risks highlighted by the Zoom privacy lawsuits. Zoom's claims of offering end-to-end encryption were also contested. In August 2021, Zoom was forced to settle the class-action lawsuit for $86 million.
Six Flags Great America Class Action Lawsuit
Six Flags Great America is one of the most popular amusement parks in North America, usually having several million visitors each year. It is part of the Six Flags Entertainment Corporation, which has attractions all over the United States. Great America is located in the state of Illinois. In 2019, a class-action lawsuit alleged that Six Flags Great America was illegally collecting personal data of park attendees. The original Six Flags Great America lawsuit was brought against the company by a mother who claimed the park's management acted unlawfully in 2014 by taking a biometric scan of her then-15-year-old son's thumb without prior approval.
The Six Flags class-action lawsuit was an important privacy legal case, reaching the Illinois Supreme Court, which found against Six Flags Great America. The company was forced to settle in 2021, agreeing to pay a $36 million class-action lawsuit settlement for the scanning of the fingerprints of park-goers at Great America without their consent. It was calculated that those who visited the park between October 2013 and December 2018 could be eligible for up to $200 each for their share of the Six Flags class action lawsuit payout.
A class-action lawsuit is a legal procedure where one person represents a wider group of people in litigation against a company or individual. So, for example, if a certain model of television set was deemed to be faulty or didn't perform as advertised, a class action might be taken out against the firm that produces the sets. This means all the claimants are bundled together in a single case. The outcome of that case might be a class action rebate, i.e., a settlement amount paid by the company to anyone who bought the faulty television sets and joined the lawsuits.
 A class-action rebate can be organized in various ways. The simplest method – called a pro-rata settlement – is where the defendant pays a sum of money, which is then split equally among those represented by the class action. There are other means of settling a class action rebate, including voucher schemes, where claimants receive coupons for re-purchasing products, or common fund settlements, which can be divided up among eligible claimants using an agreed formula.
Blue Cross Blue Shield Class (BCBS) Action Lawsuit
Blue Cross Blue Shield is a federation of different American health insurance companies that provide coverage to over 100 million people in the United States. In 2013, a class action was launched against BCBC, alleging that it violated the Sherman Act. The Sherman Act (1890) is a fundamental antitrust law designed to ensure the rule of free competition and stop unfair monopolies in areas of commerce. BCBS was accused of violating antitrust laws due to dividing 36 of its member companies into service areas and ensuring there was no competition between them, while also engaging in price-fixing. In short, it was alleged that BCBS was limiting the options for Americans trying to access health insurance markets.
The Blue Cross Blue Shield class action lawsuit ran for almost eight years before the organization was forced to settle for $2.67 billion in 2020. BCBS did not admit legal fault when agreeing to the class-action settlement payout. However, not all claimants agreed with the terms of the BCBS settlement, and some claimants have vowed to continue their legal claims against BCBS. So, the status of the BCBS class action lawsuit is resolved but only partially.
EpiPen Class Action Lawsuit
EpiPen is the brand name for epinephrine injector, a hand-held medical device used to inject adrenaline into the body after someone suffers anaphylaxis (anaphylactic shock). While there are other epinephrine injector brands available in the United States and worldwide, EpiPen is the market leader. However, its distributor and manufacturers (Mylan and Pfizer) have been criticized for raising the prices of EpiPen, and they have faced class-action lawsuits claiming that such price-fixing amounted to illegal anti-competitive practices. Famously, it was cited that a pack containing a pair of EpiPens was sold for $100 in 2008, but Mylan was selling the same pack for $600 in 2016.
The outcry over the 2016 price hike set the ball rolling for the EpiPen class-action lawsuits against Pfizer and Mylan. In the summer of 2021, the case was resolved after Pfizer agreed to pay $345 million to settle. The EpiPen case is complicated, not least by the fact that the ownership structure of the medical devices is convoluted. But the fund was made available for anyone who had bought an EpiPen between August 24th, 2011, and November 1st, 2020, to claim a class action rebate. Please note that the filing claim deadline for this class action payout passed in November 2021.
Kellogg's Class Action Lawsuit (Added Sugar Class Action)
The Kellogg Company is the world's largest manufacturer of breakfast cereals, selling its products in 180 countries worldwide. As with rival breakfast cereal companies, it often makes claims centered around the health benefits of its products. Some of the claims made by Kellogg's seemed to be demonstrably false, and that launched a nationwide class-action lawsuit against the company. In 2021, Kellogg's agreed to settle the class action, agreeing to pay out more than $20 million to claimants. People who bought certain Kellogg's cereals between August 2012 and October 2019 were eligible to join the added sugar class action lawsuit and receive a payout.
The Kellogg's cereals class action covered a range of cereal brands, including Raisin Bran, Smart Start, and Frosted Mini-Wheats. Broadly speaking, the issue was that Kellogg's was boldly making claims like "Heart Healthy" and "Lightly Sweetened" around products that contained high levels of added sugar. While as is often the case when class actions are settled, Kellogg's admitted no legal fault, it did agree to change the claims it makes and the way it advertises certain cereals.
Grace Class Action Lawsuit
Apple is clearly one of the world's most important technology brands. And as such, it is constantly evolving its products with new hardware and software features. Back in 2014, Apple allowed a security certificate to expire, meaning that FaceTime (video calling software) stopped working on certain iPhone 4 and 4s devices. Apple tried to solve the problem by offering users a free update to its latest operating software (then iOS 7), but users complained that the new version of FaceTime was buggy and beset with problems on iPhone 4 models. A class-action lawsuit was launched, claiming that Apple's actions (some argued intentionally) diminished the performance and value of iPhone 4 models.
The Apple class-action lawsuit lasted for several years, and it became widely known as the Grace class action as one of the lead claimants, Christina Grace, became prominent in the case. Officially, the lawsuit is Grace et al. v. Apple Inc. Nonetheless, Apple eventually decided to settle in July 2021, agreeing to pay approximately $18 million to claimants in the Grace Apple class action lawsuit.
Top Class Action Settlements
Over the years, many class-action lawsuits have resulted in companies paying huge settlements to claimants. Sometimes the sum agreed for a class action payout can reach billions of dollars. Indeed, the largest class-action settlement payment of all time was worth over $200 billion. Below we list some of the top class action settlements:
Master Tobacco Class Action - $206 billion
Arguably the most famous class-action lawsuit settlement in history, tobacco firms including Phillip Morris and RJ Reynolds agreed to pay $206 billion in 1998 to settle cases connected to smoking-related illnesses. This was not a traditional consumer class action, given public prosecutors were involved, but the settlement covered longstanding class action liability against big tobacco companies.
BP Oil Spill Class Action - $20 billion
The second largest (to date) class action payment was $20 billion, agreed by BP (British Petroleum) in 2016 to resolve claims over the Deepwater Horizon Gulf of Mexico oil spill that began in April 2010. It was considered to be the largest oil spill in the history of the petroleum industry. Again, this was not a traditional consumer class action, given the presence of public prosecutors in the case. The BP class action payout largely went to local authorities, as well as covering fines and penalties handed out for BP's actions.
Volkswagen Emissions Class Action - $14.7 billion
The Volkswagen car emissions class action came about after the German automobile manufacturer was caught cheating in emissions tests for a range of diesel cars. In short, Volkswagen fiddled the tests in order to claim the cars were more environmentally friendly than they were. A California judge ordered a $14.7 billion settlement payment, some of which was shared among almost 500,000 Volkswagen car owners.
Enron Securities Fraud Class Action - $7.2 billion
The Enron accounting scandal is one of the most infamous in the history of corporate finance. The Enron class-action lawsuit was also one of the biggest in history, with around 1.5 million shareholders represented in a suit against the firm. Enron's executives had used various shady and illegal accounting loopholes to cover up the corporation's debt and other issues. When the truth became known, Enron's stock price tumbled. A Houston-based judge ordered the $7.2 billion settlement in 2008.
Other top class action payouts are listed below:
Worldcom Accounting Class Action - $6.1 billion (2005)
Fen-Phen Diet Drugs - $3.8 billion (2000)
American Indian Trust - $3.4 billion (2011)
Dow Corning Silicone Breast Implant - $3.4 billion (1994)
Cendant Accounting Fraud - $3.2 billion (2000)
Class Action Lawsuits FAQ
What is a class action lawsuit?
A class action is a type of lawsuit taken against a company or individual. Class actions are characterized by having one individual claimant represent a larger group of claimants. This helps streamline the process in the courts as multiple claims are combined into one, with the claimants sharing the class action payout award. Class action lawsuits can be litigated for many reasons, ranging from personal injury claims to defective consumer products.
What is the average payout for class action lawsuit?
The amount of money received for a class action lawsuit payout can vary and depend on a number of factors: the nature of the lawsuit, the number of claimants, the level of injury caused, the culpability of the defendant, and so on. Some law firms estimate that the average class action payout is somewhere around $20,000 per person, but, again, this depends on many factors. It should be noted that an individual class action payout to a claimant could be anything between a few dollars to huge sums over $1 million.
What is the highest payout for a class action lawsuit?
As we noted earlier, the Big Tobacco class action lawsuit holds the record for a payout of over $200 billion. Some of the individual claimants in this lawsuit were estimated to have received $8,000 per month from the tobacco lawsuit payout.
Is it worth joining a class action lawsuit?
Yes. Because it usually costs nothing to join (lawyers' fees are normally paid out of the settlement), nor will you likely be expected to appear in court or do anything more than fill in a form. Moreover, class actions can often be settled out of court, with defendants and claimants agreeing a drawn-out case could be more expensive for both parties.
How do I find out about a class-action lawsuit?
You may receive an email or letter notifying you of a particular class action case and your eligibility. However, be careful as the communications may be spam or a phishing scam. Sites like Select Justice and others will always keep you up to date with important lawsuits, letting you know if you are eligible to join.
What is a class action no proof?
A no proof class action lawsuit is a type of case you can join without needing to provide a receipt to prove you purchased a product. Claimants can join if there is a reasonable expectation they would have bought a product. For example, the previously mentioned Kellogg's cereals class-action lawsuit would have been open to people who did not necessarily have the proof of purchase (receipts) from years ago.