Last Updated:
February 7, 2021
It will come as no surprise that America is not considered to be a cycling nation. In fact, the CDC estimates that just 1% of all journeys in the United States are made on a bicycle, which pales in comparison to many other wealthy nations. However, cyclists are involved in a disproportionate number of road traffic accidents leading to thousands of injuries and hundreds of deaths each year. The numbers are worrying, and they are getting worse in recent years. Since 2013, the number of bicycle accident deaths has increased by 14%.
Most Common Bicycle Accident Injuries
A bicycle accident can happen in numerous ways, and the type of crash can impact the severity of the cycling accident injuries. For instance, "dooring", which is the term used to describe an incident where a cyclist crashes into a suddenly opened door of a parked vehicle, can cause various injuries, and possibly death. The impact of hitting the door can cause several types of injury, and there is always the possibility that the cyclist swerves into the road to avoid the door and is hit by another vehicle. Dooring is just one of many common causes of bike accidents, however, and the injuries might be different from other types of bike accidents. Below we list some of the most common types of bicycle accident injuries:
Limb injuries (most common overall), such as broken bones

Concussions 

Brain and head injuries, such as traumatic brain injury

Fractures

Contusions

Lacerations
The list above is certainly not exhaustive. Other injuries include degloving injury, spinal cord damage, chest injury, eye injury, spinal cord damage, amputation, paralysis, and wrongful death. Even so, it does not begin to cover the psychological damage and distress that can occur after being involved in a serious bicycle accident.
Bicycle Accident Injuries

Bicycle and Pedestrian Accidents
In January 2020, the FHWA (Federal Highway Administration) published data showing that pedestrian and bicyclist fatalities amount to some 16% of all road traffic accident deaths annually in the United States. In total, there are approximately 65,000 pedestrian and 48,000 bicyclists injured in road accidents each year.
Bicycle Accident Statistics 2020
The latest bicycle accident statistics we have from the FHWA and NHTSA (National Highway Traffic Safety Administration) reflects data up until 2018. Normally, bicycle safety and accident figures are published a year behind. Currently, however, data for 219 is not available, and we expect that the coronavirus pandemic has disrupted the publishing of 2019 figures from official road safety agencies, and will delay the 2020 bicycle accident statistics, as it has disrupted so many other activities. Nevertheless, we can point to 2018 as the deadliest year yet for bicycle road accident deaths, with an average of over two cyclists per day dying on America's roads.
Bicycle Accident Head Injury Statistics
The CDC (Center for Disease Control) reports that head injuries are the most common cause of bicycle accident death (60% of all cases) and the most common cause of serious disability after bicycle-related accidents (30% of all cases). Taking precautions like wearing a helmet can help prevent bicycle accident head and brain injuries. In 2016, a major global study found that wearing a helmet could reduce head injury risk by 70%.
Many law firms and lawyers operate general practices. This means that they don't focus on a single area of law; instead, they handle a variety of issues including:
Criminal defense
Divorce
Estates and wills
Real estate
Personal injury
Attorneys who occasionally handle any single type of case typically have less familiarity then lawyers who specialize in the same area of law. This means that if you are seeking representation for personal injuries, your claim is more likely to be successful when you hire a personal injury lawyer. The same reasoning holds true for motorcycle accidents: If you have been injured, it's best to hire an attorney who offers a high level of experience with motorcycle law.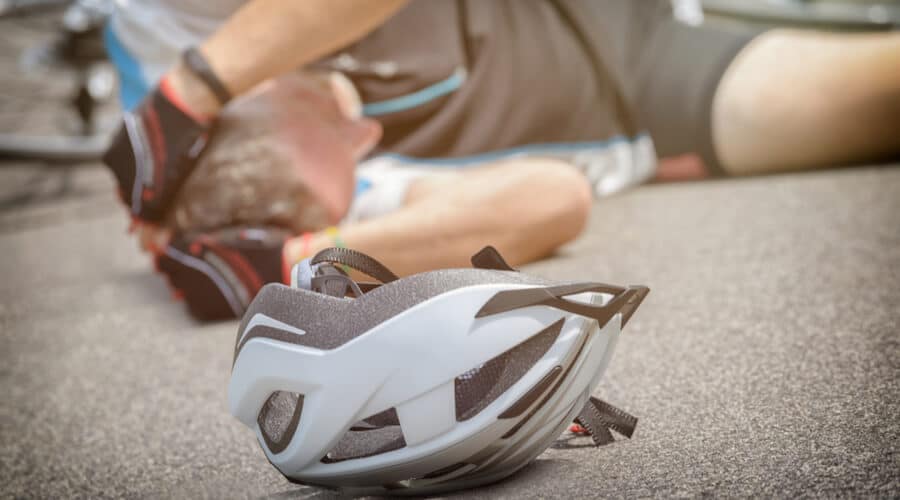 Bicycle Accident Head Injuries

It is far more common for the cyclist to die than a motorist when in a crash involving both cars and bikes. Estimates vary, but studies have shown that cyclists are more likely to die than motorists – and the numbers quoted are astounding. Cyclists are at significantly greater risk of dying – from between 15 to 63 times more likely – than motorists in a crash when the driver of a motor vehicle is involved. Many media reports over the last few years have highlighted what appears to be a specifically American problem of increasing cyclist (and pedestrian) deaths in an era when road traffic death is declining in general.
Bicycle Accident Statistics
There are numerous statistics and trends for bike accidents published each year by bodies like the Department of Transport, CDC and NHTSA. For example, looking at the DoT's latest figures (up until 2018), we can see bicycle accident trends such as the following:
854 cyclists were killed in collisions with motor vehicles in 2018, which is 54 more than in 2017. In total,

bike-related fatalities are up 25%

since 2010. 

Male cyclists above the age of 20 are the most likely to be involved in a fatal bicycle crash. 

Women are far less likely to be involved in fatal bicycle crashes than males, with the latter four times as likely to die for a bike accident. 

While the number of children in fatal bicycle accidents has seen a steady decline since 1975 (when the DoT began recording the information), much of that is put down to the lower numbers of kids riding bicycles. For example, in the 1950s, almost

50% of US children rode bikes

to school each day; that number has decreased to about 13% today and

still seems to be going down

.  

Time of day and the time of year are important factors in bicycle accident statistics. The number of bicycle accident deaths tends to increase in the summer months. The peak time of day for bicycle accidents is between the hours of 6 pm-9 pm when fading light and rush hour traffic can add to the hazards of riding a bike.  
Death Rate Bicycle Accidents
While cycling takes up only a small percentage of America's road journeys each day, cyclists are disproportionately affected by road traffic death. The latest figures show that pedestrians and cyclists account for 20% of road traffic deaths in the United States.
How Do Bicycle Crashes Happen?
The NHTSA highlights several common causes of bicycle crashes:
Poor compliance with traffic laws

. There are many traffic violations that can cause bicycle accidents, including motorists running red lights, not signaling and failing to yield. Cyclists, too, can break the law and cause accidents by not following the rules. 

Speeding

. Motorists exceeding the speed limit can impact both the likelihood of crashing into a cyclist and the severity of the injuries caused by the collision. If a vehicle hits a cyclist when traveling at 36-45 mph,

it is four times more likely to cause death

than when traveling at 26-30 mph. 

Inadequate separation

. Most motorists know to give bicyclists a wide berth when overtaking them on the road. However, this advice is not always followed. 

Crossing locations

.

Collisions at intersections

are a common cause of injury. 30% of all bicycle deaths are caused after a cyclist is struck by a vehicle at an intersection. 

Inadequate conspicuity

. In a nutshell, this refers to bad light on the roads. 45% of accidents where bicyclists were struck by a vehicle happen in the dark. 

Impairment and distraction

. Most notably here, the NHTSA cites alcohol and drug use as a cause of accidents. Drivers, cyclists and pedestrians all increase their likelihood of being in a crash when under the influence of alcohol or drugs. 
Claiming compensation after a bicycle accident can sometimes be tricky if you do not have the right professional legal support. For instance, a car-on-bike collision might involve claiming against the vehicle driver's insurance company, whereas crashing into a stationary object might require claiming injury on your home insurance. Claims can be complex, ranging from minor settlements for bicycle repairs to multi-million-dollar lawsuits for injuries. Before you start a claim – even if it the incident seems clear cut – you should seek legal advice on your bicycle accident compensation options.
Bicycle Accident Law Firm
Many American law firms will specialize in securing compensation for cyclists involved in road traffic accidents. It is a unique area of the law, and not every personal injury lawyer will have the experience and know-how to advise clients properly or to get them the payout merited for their injuries. Select Justice can connect you with experienced and trusted bicycle accident law firms with a proven track record of success in securing compensation for your bicycle crash injuries.
Common Bicycle Accident Injuries Include Fractures
How Do Bicycle Helmets Protect The Head In An Accident?

It's a simple fact that wearing a helmet lowers the risk of death when involved in a bicycle accident, and it can significantly reduce the risk of bicycle accident brain injuries. The helmet acts to disperse the force of the impact when your head is struck, with the foam lining on the inside cushioning the blow. One study from New York City showed that almost all cyclists (97%) who died in accidents were not wearing a helmet.
Does Home Insurance Cover Bicycle Accidents?
This is a complex issue, and it depends on where you live, what type of home insurance you have and the type of bicycle crash. For instance, if the bicycle accident involved a motor vehicle when the driver was at fault, then the auto insurance of the driver will be used to pay damages. If you crash into another cyclist, pedestrian or stationary object, then it is possible that your home and contents insurance covers some of the cost for bike repairs, or a replacement. It gets more complicated, however, when there is personal injury involved, and home insurance is highly unlikely to cover medical expenses.
How Many Children Die From Bicycle Accidents?

The good news is that the number of child deaths from bicycle accidents has been declining since 1975. In fact, adult males are the most at-risk groups for bicycle deaths. However, some have pointed out that children's' bicycle death statistics are somewhat skewed given that fewer kids are riding bikes in the United States. Nonetheless, an estimated 100 children are killed each year in cycling accidents, and cycling is the leading cause of head injury of all recreational activities – double that of football.
How Many People Die A Year From Bicycle Accidents?
The number of people dying each year from bicycle accidents can vary, but there has never been fewer than 600 since 2010, and that number peaked at almost 900 in 2018.
What To Do After A Bicycle Accident?
Of course, it depends on the nature of the accident, but it would seem prudent to follow these steps after being involved in a bicycle accident. 
Check for injuries and your personal safety

. This could involve moving off the road, treating your injuries (sit down if you need to) and calling 911 if necessary. 

Check for the safety of others involved in the crash

. If you are able, look to the safety of others, including giving first aid. Never remove another person's helmet after a crash unless it is obstructing their breathing. 

Obtain the details of others involved in the crash

. If you were hit by a car driver, then you will want to record as much information as possible. Take photos if you are carrying a phone, and encourage witnesses to stay on the scene. 

Report the matter to the police right away

. Even if the accident seems relatively minor, you should report the matter to the police as soon as possible. 

Visit the ER

. Again, even if the accident seems like a minor one, it is worth seeking professional medical advice. Some bicycle accident injuries, particularly head and brain injuries, may not be apparent right away. 
Contact a bike injury lawyer. It may not seem necessary, but an experienced bicycle accident lawyer can help give you the right advice after a bike accident.
How Many People Die A Year From Bicycle Accidents?
The number of people dying each year from bicycle accidents can vary, but there has never been fewer than 600 since 2010, and that number peaked at almost 900 in 2018.
Bicycle Accident Settlement Amounts
The amount of compensation to expect when involved in a bicycle accident that was not your fault can vary dramatically. The level of bike accident settlement depends on the injuries caused, insurers and the nature of the accident, i.e. who was to blame. If the claim reaches court, it could potentially see the injured cyclist secure millions of dollars in compensation. For example, one of the largest bike accident payout awards came in Philadelphia in 2014 when a judge awarded cyclist Ashley McKean $2.4 million in compensation. McKean had been "doored" by a parked car and then struck by a van that was following too closely behind.
Bicycle Car Accident Settlement
The settlement amount for a bicycle accident involving a car or other type of vehicle is always likely to be linked to a personal injury claim. As such, the amount to expect from a settlement will depend on the extent of injuries suffered and, of course, who was at fault for the incident. If you have been struck by a car when cycling and have had serious injuries as a result, then a substantial settlement amount could be awarded. As we have seen, some settlements are worth millions of dollars, but a myriad of factors need to be considered to calculate the settlement you will receive after a bicycle accident.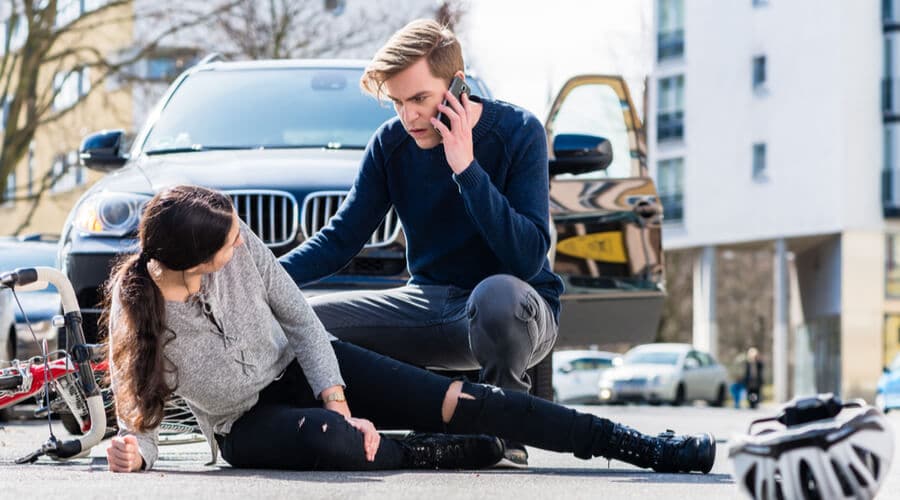 Bicycle Car Accident Settlement
Average Settlement Bicycle Accident
Calculating the average compensation amount for a bicycle accident will also depend on several factors. We have seen exceptional cases like Ashley McKean's, where the claimant has received a multi-million-dollar payout. Some less prominent cases have seen payouts worth tens of thousands. For instance, in late 2020, Carolea Goldfarb, received a $75,000 settlement from the City of New York after being knocked off her bike by a pedestrian on Brooklyn Bridge. Goldfarb fractured a wrist and required surgery, successfully suing the city due to the dangerous conditions on the bridge. In the end, the monetary settlement for a bicycle accident will depend on the unique circumstances of the incident, and the level of injury sustained. Speaking to a lawyer experienced in handling bicycle crash cases can help clarify how much you are likely to receive if you have been injured in such an accident.
There are two types of advice you should pursue after a bicycle accident – medical and legal. It's worth remembering that the latter can help with the former as specialist bicycle accident lawyers can help you secure the proper medical advice after a bike road traffic accident. Indeed, getting the wrong advice after an accident can be common. For example, in the case of Ashley McKean mentioned above, the van driver reportedly told McKean that she should have been cycling on the sidewalk. This, in fact, is illegal. There are lots of misconceptions around cycling and the law, so you should always contact a legal professional to know your rights after an accident.
Bicycle Car Accident Insurance Claim
A bicycle accident insurance claim can be a difficult process. For a start, cyclists do not generally have insurance coverage specifically for cycling. And while home insurance can, in some cases, cover bicycle accidents, it usually only helps with minor accidents where there has been no injury to the person. For the more serious incidents, where a significant injury has occurred after a collision, there is the likelihood of claiming from the vehicle driver's insurance company. Again, this can be complex, exhausting and – ultimately – unrewarding financially. If you feel that the insurance payout for a bicycle accident is undervalued, then we would recommend that you contact a bicycle injury lawyer to discover your options for further compensation.
Common Bicycle Accident Causes
We have listed some of the most common causes of bicycle road traffic accidents below. Please note that the list refers to actions carried out by both bike riders and vehicle drivers:
Dangerous road conditions

Aggressive driving

Failure to yield

Distracted driver/rider

Riding at night

Fatigue

Limited rider visibility

Driver/rider under the influence

Equipment malfunctions and defects

Inclement weather
Liability for Bicycle Accidents
There are four main groups that could be liable for a bicycle accident: The driver of the motor vehicle, the cyclist, government agencies and the manufacturer of the bicycle. The latter is the rarest, naturally, but faulty equipment can lead to accidents and, therefore, litigation. Government agencies refers to a wide list of public bodies responsible for maintaining the safety of the roads. They can be liable when, for example, an accident was caused by a pothole. In 2017, a cyclist was awarded $6.5 million from the City of Los Angeles after an accident caused by a pothole. Vehicle drivers and the cyclists are the most common groups cited for liability when an accident occurs. Often there is contention and a lack of clarity over who is at fault for the crash, making it another reason to seek legal advice after being involved in a bicycle accident.

Free Case Evaluation
If you have been harmed in a Bicycle Accident Select Justice can help you fight for your rights and compensation.