Last Updated:
February 10, 2021
If you or a loved one have been seriously injured as a result of a motorcycle accident, an experienced attorney can help.
How to Find the Best Motorcycle Accident Lawyer?
Many law firms claim to have experience with litigating on behalf of motorcycle accident victims; however, some lawyers are far more experienced than others.
As you make your decision, ask questions about previous cases that the lawyer or firm has handled We can help speed the process by connecting you with an experienced motorcycle accident attorney.
What Things to Consider When Hiring A Motorcycle Accident Lawyer?
There are a few things to keep in mind when choosing a lawyer to represent you.
Location: Is the attorney or law firm familiar with your state's traffic laws, particularly those pertaining to motorcycles?
Experience: Has the lawyer been practicing for long, or are they fresh out of law school? New lawyers may be able to help, but if possible, it's best to choose an attorney who has experienced success in the courtroom.
Cost of consultation: Will the attorney charge a fee to look into your case, and will they require upfront payment before representing you? Many experienced motorcycle accident attorneys offer representation without upfront payment, and accept compensation after successful litigation. This can make matters far easier for motorcycle accident victims who have accrued medical costs or lost wages after being seriously injured.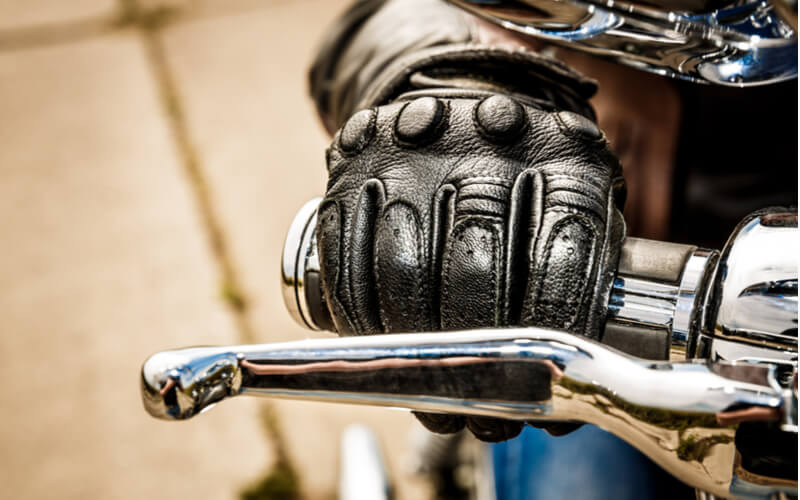 Motorcycle Accident Injuries

It's surprising how many people are not familiar with the extensive training required for motorcycle licensure. At the same time, it's true that some bikers are irresponsible, and unfortunately, they have contributed to the myth that all motorcycle riders are rebels who operate without regard for other motorists.
The truth is, most bikers keep safety in mind. Not only do they value their lives and the lives of those around them, they value their motorcycles and operate in a safe manner as required by law.
Unfortunately, even the most experienced bikers can be involved in motorcycle accidents. Furthermore, accidents aren't always the biker's fault. An individual can be involved in a collision even when riding defensively and taking all necessary precautions for their safety..
Motorcycle Accidents Statistics
According to the National Highway Traffic Safety Administration (NHTSA), 5,337 motorcyclists died in accidents in 2017. This figure is a sober reminder that motorcyclists already far greater risk of dying in crashes than are passengers in cars. For the year 2017, this number meant that bikers were 27 times more likely to die in motorcycle accidents.
Even though helmets save lives, some people still aren't wearing them. NHTSA and the US Department of Transportation note that the number of bikers wearing helmets has increased. In the year 2005, only 48% of bikers reported wearing helmets regularly. In 2019, 71% of bikers protected themselves with DOT approved helmets. These figures go up and down; in 2000, 71% of bikers were wearing helmets. The reason for the major decrease in helmet usage between 2000 and 2005 is unknown.
Certain times and days are statistically more dangerous for motorcycle riders; perhaps due to an increase in the number of riders on the road at those times. NHTSA and the US Department of Transportation note that two of the most dangerous times are weekdays between 3 and 6 PM and weekends between 6 and 9 PM. 23.6% of fatalities occurred on weekday afternoons, while 24.4% of motorcycle fatalities occurred in the early evening on weekends.
Motorcycle Accident Injury Claims
Both riders and passengers may make motorcycle accident injury claims. If you are injured as a result of a motorcycle accident, the amount of compensation you are likely to receive may depend largely on the skill and experience of the motorcycle attorney who represents your case in court. When seeking justice, it's vital to select a lawyer who is capable of helping you receive as much compensation as possible.
Any lawyer who has been admitted to the bar can practice law and appear in court. This means that attorneys are not required to have previous experience when representing motorcycle accident victims or handling other types of personal injury cases.
If you have been seriously injured, it is best to seek a seasoned lawyer who has the necessary insight, courtroom experience, and trial skills required to navigate negligence laws and represent victims with major claims at stake.
Many law firms and lawyers operate general practices. This means that they don't focus on a single area of law; instead, they handle a variety of issues including:
Criminal defense
Divorce
Estates and wills
Real estate
Personal injury
Attorneys who occasionally handle any single type of case typically have less familiarity then lawyers who specialize in the same area of law. This means that if you are seeking representation for personal injuries, your claim is more likely to be successful when you hire a personal injury lawyer. The same reasoning holds true for motorcycle accidents: If you have been injured, it's best to hire an attorney who offers a high level of experience with motorcycle law.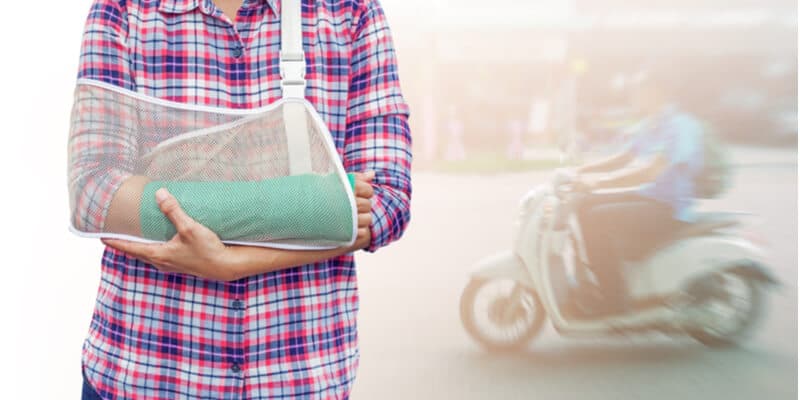 Motorcycle Accident Injury Compensation

Motorcycle Accidents Compensation
To increase your chances of receiving compensation for your injuries, your lawyer will need as much evidence as you can provide. This includes:
Your police report
Photos of the vehicles involved in the accident as well as photos of the scene and clear images of your injuries
Medical records with clear descriptions of your injuries
Medical imaging records if possible including x-rays and CT scans when applicable
Work related records and bank statements that prove you've lost time at work and/or lost wages following injuries caused by a motorcycle accident
Most motorcycle accident victims ultimately receive settlements. While a settlement does mean compensation, lawyers who take cases to trial often achieve better outcomes for their clients. When seeking an attorney, consider whether they have a reputation for taking their cases through the full trial process, or if they simply seek settlements as a means of saving time and effort.
The decision is yours, but motorcycle accident claims adjusters know which lawyers will settle for lower compensation and this could have a negative impact on the outcome of your case.
The Most Common Causes of Motorcycle Accidents
You probably learned about all the most common causes behind motorcycle accidents when you first learned to ride. Here's a quick refresher for riders. If you are conducting research into motorcycle accident attorneys on behalf of a loved one who rides and was injured, this might help you understand what causes the majority of motorcycle accidents.
Inattention
Motorist inattention is by far the number one cause of motorcycle accidents. Bikers are often difficult to see in traffic and when motorists aren't paying complete attention to the road and the vehicles around them, accidents happen. For example, many motorists fail to check their blind spots before changing lanes and this can lead to serious accidents. You can increase your visibility by wearing brightly colored clothing and/or reflective gear.
Sudden movement by a stopped vehicle
Stopped vehicles might not be safe to pass. The reason for this is that drivers sometimes open their doors without checking their mirrors to look for oncoming traffic. This doesn't happen often, but it can be a recipe for disaster. In addition, drivers sometimes fail to notice bikers when leaving parking spaces or pulling out into traffic.
Impaired, distracted, and aggressive motorists
Of course, bikers need to pay attention and remain alert. Knowing the signs of an aggressive, distracted, or drunk driver can help with accident avoidance. If you're simply looking into the causes of motorcycle accidents, you can place tired, distracted, and impaired drivers near the top of your list. These drivers have a tendency to weave and swerve, sometimes crossing into oncoming traffic or unintentionally leaving their lanes. Bikers should keep a close eye out for erratic driving and stay far away from cars and trucks that might be at an elevated risk of accident.
Bad Weather
Many motorcycle accidents are caused by poor road conditions. If at all possible, avoid riding your motorcycle in bad weather such as rain, sleet, or snow. If you are caught in bad weather, try to find a safe place to stop as soon as you can. Bad weather causes decreased visibility, increasing the chances of a collision. At the same time, slippery road conditions make for dangerous riding.
Physical hazards
Road hazards can cause serious motorcycle accidents. Large potholes, debris, and even large amounts of lawn clippings have been blamed for serious accidents in the past.
Risky Riding Behaviors
Bikers know that certain actions aren't safe. What are your riding alone or with a group, remember that overcompensating the front brake can cause a rider to crash. In addition, keep yourself out of harm's way by avoiding dangerous habits such as lane splitting. True, it's no fun to be stuck in traffic, but white lining isn't worth the risk.
The Most Common Motorcycle Accident Injuries
Bikers who are involved in minor accidents are sometimes fortunate enough to get away with a case of painful road rash and nothing more serious. Unfortunately, most motorcycle accidents results in serious injuries including:
Surface nerve damage
Serious skin infections
Burns
Fractures
Limb amputations
Traumatic brain injuries
Spinal cord injuries
Paralysis
Many of these injuries lead to lifelong disability, and in many cases, long-term care is required. Even when long-term disability doesn't occur, accident victims and their families may suffer through months or years of discomfort, depression, and side effects that make daily life difficult.
Damages for injuries that occur as the result of a motorcycle accident may include medical expenses, emotional distress, pain and suffering, future expenses, and lost wages. Experienced motorcycle accident lawyers have the legal knowledge and skill required to ensure that you receive appropriate compensation for your injuries.
Common Motorcycle Accident Injuries Include Fractures
Tips on Hiring a Motorcycle Accident Lawyer
If you have lost someone you love any motorcycle accident, or if you have been injured, it stands to reason that you will require the best representation possible. After all, your lawyer will be tasked with advocating for you, and it's likely that the opposition will be a skilled legal team from a large insurance company. Experience matters. Besides reading reviews and checking websites, here are some practical questions to ask when hiring an attorney:
How long have you been practicing law?
What percentage of your cases involve motorcycle accident victims?
Have you ever handled cases like mine and if so, how did they turn out?
What percentage of your motorcycle accident cases are settled out of court?
What percentage of cases go to trial?
Of the cases that went to trial, what percentage resulted in a favorable outcome for the victim?
What is your fee? If there is a contingency fee, what percentage does your firm keep?
If all this seems overwhelming and you're still not sure where to begin, let Select Justice help. We can put you in touch with experienced motorcycle accident attorneys.
Motorcycle Accident Lawyer Near Me
What if no local attorneys are available? You can still find representation. Consider checking your state's Bar Association. A directory of lawyers should be available, and each lawyer's area of specialty may be listed.
If you are still having difficulty finding a lawyer, simply fill our quick form with a few details about your motorcycle accident. We can help you narrow your search and find the representation you need.
Motorcycle Accidents FAQs
Why to Contact a Motorcycle Accident Lawyer?

It's very difficult to present a case on your own. A skilled motorcycle accident attorney can help you seek compensation
Do I Need a Motorcycle Accident Lawyer?
If you were involved in a motorcycle accident, either as the driver or as the passenger, or if you lost a loved one as a result of a fatal accident, an attorney is your greatest ally in seeking justice. Our quick contact form can help you determine whether you need help from a lawyer.
Why Worry About Finding A Lawyer Who Specializes In Motorcycle Law?

Attorneys who specialize in this type of personal injury case are able to take on the negligent party and/or insurance companies who might otherwise attempt to offer a lowball settlement out of court.
How Much Does It Cost To Hire A Motorcycle Accident Attorney?
Most personal injury lawyers utilize contingency fee agreements which provide the attorney with a set percentage of the compensation you receive. Contingency fee agreements often include court costs and other expenses which are advanced by your attorney, and are often negotiable.
When contingency fees are applied, costs are deducted from the verdict or settlement. The percentage is agreed upon in writing, as part of your contract with your lawyer.

Free Case Evaluation
If you have been harmed in a Motorcycle Accident Select Justice can help you fight for your rights and compensation.