Medtronic HeartWare HVAD Lawsuit
Last Updated:
July 1, 2023
It is an uncomfortable truth that upwards of six million Americans suffer from heart failure, and almost 400,000 people have heart failure mentioned as a cause of death on their death certificates each year. Thankfully, medical science does offer a lifeline to many people with serious heart conditions, even for those who are on waiting lists for heart transplants. One such medical device that offered a sense of hope was HeartWare HVAD (HeartWare Ventricular Assist Device). Approved by the FDA in 2012, this device was seen as a literal lifesaver by many thousands of Americans on heart transplant waiting lists and for others with serious heart issues. However, many users soon discovered that this miracle device was, in fact, dangerous. In 2021, Medtronic, the company that makes HeartWare HVAD, was forced to recall all the devices due to the dangers of using them. This has understandably caused alarm among the thousands of people who have HeartWare fitted. And as more news rolls in about the mistakes made by Medtronic and, indeed, the FDA, they want answers. Lawyers representing HeartWare users are launching legal action as it has become clear that HeartWare HVAD can cause serious injury and even death.

Free Case Evaluation
If you have been harmed by using Medtronic HeartWare HVAD pump, Select Justice can help fight for your rights and compensation.
Medtronic HeartWare Lawsuit News & Update July 2023

July 1, 2023 - After Left Ventricular Support Device Implantation, Pulmonary Capillary recruitment is reduced.
March 1, 2023 - Medtronic recalls another battery for the HeartWare Ventricular Assist device.

February 1, 2023 - Medtronic continues to have battery recalls related to its HeartWare heart pumps. Medtronic has already begun to follow the same trend in 2023 after issuing safety warnings for its HeartWare Ventricular Assist device (HVAD), which was discontinued last year.

January 1, 2023 - Medtronic HeartWare Ventricular Assist Device (HVAD) System Update
December 1, 2022 - The FDA updated on November 17, 2022 to provide more information about safety issues and recalls. Patients and health care professionals can use the updated information to make better health and life choices.
November 21, 2022 - Medtronic rolls out emergency only software fix for discontinued HeartWare pumps' restart issues.
September 1, 2022 - Medtronic recalls HeartWare HVAD system batteries for electrical faults that cause battery failure.
June 12, 2022 - The FDA published the following recalled product: HVAD Pump Implant Kit
Models: 1101, 1103, 1104, 1104JP, MCS1705PU
Devices Recalled in the United States: 1614
Distribution Dates: October 2006 to June 2021
June 1, 2022 - Medtronic issued an urgent medical device correction notice to inform health health providers about a welding defect that affected internal HVAD Battery components.
May 1, 2022 - Updated Medical Device Recalls: HVAD (HeartWare Ventricular Assist Device) System.
As previously noted, HeartWare HVAD problems were occurring across a period of several years. As the devices were linked to serious injury and, in some cases, death, individuals have taken out lawsuits against Medtronic. This included the family of John Winkler II, who died in 2014 after being issued with his HVAD device. Medtronic eventually paid a settlement to the family. But it's estimated that around 19,000 people have been fitted with HVAD devices, the majority of whom had it fitted after the first FDA warning letter in 2014. And a report by ProPublica estimates that around 3,000 people have died with the devices either contributing to or being the cause of death. As such, there are many thousands of individuals and families who have lost loved ones who could be eligible for compensation from Medtronic. As of spring 2022, the latest update for the HeartWare lawsuits is that several law firms are investigating the matter on behalf of those affected by the faulty HeartWare pumps. HeartWare HVAD pump law firms are asking people affected by the issue to come forward right now to share their stories, provide evidence and begin legal proceedings against Medtronic for a failure to act when it was repeatedly warned that HVAD and its equipment were unsafe.
FDA Medtronic HeartWare HVAD Recall
In June 2021, the FDA issued a Class 1 recall of all Medtronic HVAD devices distributed over a five-year period from 2016 to 2021. In total, 4,620 devices were recalled, and Medtronic has now stopped the sale and production of all HeartWare HVAD devices. A Class 1 recall is the most serious type of recall issued by the FDA, only used when there is a serious risk of injury or death. The two main areas of concern in the recall were that the HVAD devices could cause "an increased risk of neurological adverse events or mortality" due to an issue with the internal pump and another problem with the internal pump not restarting. People use the HeartWare devices to ensure their hearts beat correctly, so there is a real danger of death when the devices don't work properly. While the FDA issued the recall last June, investigators have discovered a litany of failures in the lead up to that recall. As it turns out, there were concerns about HeartWare for several years, notably from people using the device. The FDA was alerted to these issues, and it had, for example, previously issued a recall for HVAD battery equipment in February 2021, but it depended on Medtronic to solve them. In total, there were 15 Class 1 recalls issued for HeartWare HVAD between 2014 and 2021. Such is the extent of concern over how this was handled by the FDA that the United States Congress has opened an investigation into the matter.
The following HeartWare HVAD System items should be returned to Medtronic:
HeartWare HVAD Driveline Extension Cable, REF 100
HeartWare HVAD Driveline Extension Cable, REF 100US
HeartWare HVAD Implant Kit, REF 1104JP
HeartWare HVAD Implant Kit, REF MCS1705PU
HeartWare HVAD Outflow Graft, REF MCS1725OG
HeartWare HVAD Pump Accessories, REF MCS1753AK
HeartWare HVAD Pump Implant Kit, REF 1103
HeartWare HVAD Pump Implant Kit, REF 1104
HeartWare HVAD Pump Implant Kit, REF 1125
HeartWare HVAD Pump Implant Kit, REF 1153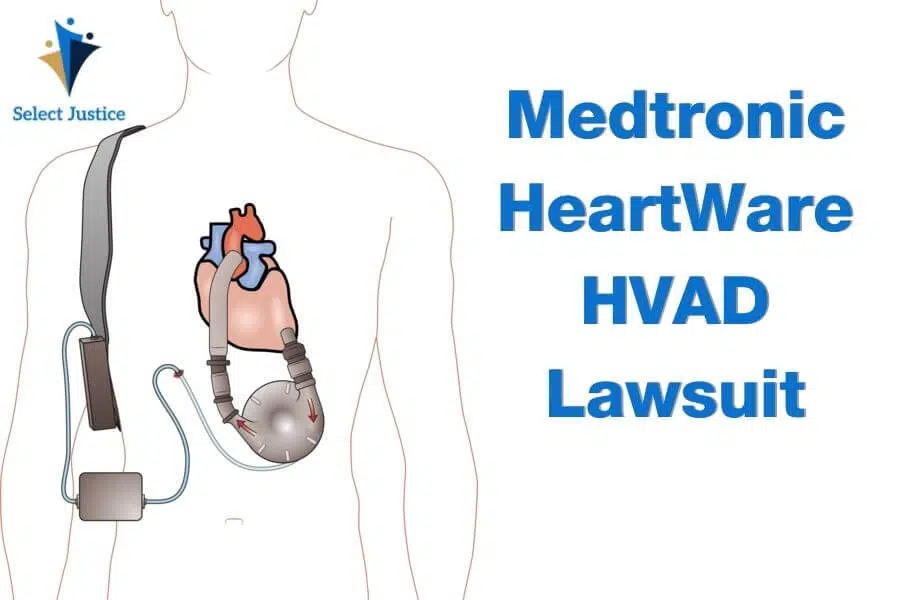 What is the Medtronic HeartWare HVAD Pump?
The HeartWare HVAD pump is a ventricular assist device that consists of a pump, battery, controller, and driveline used to help the heart pump blood and regulate the amount of blood flow around the body. It is used by some people with advanced heart failure, including those – but not limited to – patients on waiting lists for heart transplants. HeartWare HVAD devices were manufactured and distributed by Medtronic from 2016 to 2021. Originally, the devices were made by HeartWare International, an independent company that was bought by Medtronic for $1.1 billion in 2016.
What is the difference between Medtronic HVAD and LVAD?
HVAD (HeartWare Ventricular Assist Device) is a type of LVAD (Left Ventricle Assist Device). When one of the heart's ventricles (pumps) is not working properly, as is often the case in people with advanced heart failure, an LVAD can be used to increase the amount of blood pumping around the body. As a type of LVAD device, HVAD was marketed on the premise that it was smaller and less intrusive than other devices on the market.
Medtronic HeartWare Warning Letter
As was noted by Congressman Raja Krishnamoorthi when commenting on the investigations into the FDA handling of the Medtronic HeartWare case, "Between 2014 and 2021, the device underwent 15 company-initiated Class I recalls, first for assorted parts, including the external controller and battery cell, and finally for the entire defective system." The point being made was that there was a seven-year period of serious issues surrounding the HeartWare pump devices before a full recall was ordered. It has been noted that the first FDA HeartWare warning letter was sent out in 2014 but that the issues raised in it went unresolved. While the investigations into the FDA's handling of the matter is a separate issue from the Medtronic HeartWare lawsuits, it does shine a light on how users of the device had been put at risk for several years as bureaucratic procedures allowed Medtronic to continue to sell and market HeartWare.

Free Case Evaluation
If you have been harmed by using Medtronic HeartWare HVAD pump, Select Justice can help fight for your rights and compensation.
Medtronic HeartWare Injuries & Side Effects
Over the last seven years, there have been multiple failures within the HVAD system. The FDA issued over a dozen HeartWare recalls for individual components before the full recall was issued last year. As such, the HeartWare HVAD side effects and injuries can be varied, as they may have been caused by different faults in the system. However, there were broad concerns in specific areas, notably that the HVAD system could cause adverse neurological events, including stroke, and that the system might stop working altogether. It's abundantly clear that both these issues could lead to the death of the person using the equipment. Below we provide a list of the most common HeartWare side effects and injuries:
Adverse neurological events, stroke
Bleeding, sepsis, infection
Heart failure, heart attack
Death
Medtronic HeartWare Lawsuit Settlement Payout
You can gather that the Medtronic heart pump lawsuit is complicated. The issues with HVAD stretch back almost a decade and involves different companies manufacturing the product. Additionally, there were a variety of different types of injuries on those using the HVAD devices. This is complicated further by the scrutiny of the FDA's role in handling the matter. However, none of this should detract from the fact that thousands of people, many of whom may have died, were unwittingly using medical devices known to be defective. As such, those people deserve compensation. Medtronic has already paid a HeartWare settlement to some individuals impacted by the devices. Yet, there are many more people who could likely receive a substantial HeartWare HVAD payout. The amount of money that Medtronic could pay will depend on several factors, including the level of injury caused in each person. As we get more evidence in the HeartWare lawsuits, compensation may also reflect how Medtronic acted throughout the seven-year period, i.e., whether the company was negligent in its actions.
Is the Medtronic HeartWare Lawsuit a Class Action Lawsuit or Mass Tort Lawsuit?
At the moment, the HVAD lawsuit is neither a class action nor a mass tort case. If enough people come forward, though, it will most likely be consolidated into a mass tort case. Class action lawsuits are used when a large number of cases are filed against a person or company for an identical grievance. As the Medtronic HeartWare lawsuit will likely involve different levels of injury, including wrongful death, and for different reasons, as there were multiple issues with HVAD, it's more likely to become a mass tort case. This ensures that the cases are linked for efficiency through the courts but that each claimant is judged independently when it comes to things like HVAD compensation payouts.
Medtronic HeartWare Lawsuit Lawyer
If you or a loved one have been impacted by a defective HeartWare HVAD device, you should contact a Medtronic HVAD lawyer to see if you are eligible for compensation. As explained, there seems to have been a litany of failures on the part of Medtronic, which must be held accountable for injuries and death caused by HVAD pumps. This is not the first time Medtronic has been in legal trouble for faulty medical equipment, as it is also facing legal action in the Medtronic insulin pump lawsuits. If you would like to enquire further, fill out our free evaluation form to get impartial expert advice on how you could join the HeartWare lawsuits and get the compensation you deserve.
Medtronic HeartWare Lawsuit FAQs
What is the Medtronic HeartWare lawsuit about?
The Medtronic HeartWare lawsuit is focused on the recall of faulty heart pump medical devices. Lawyers allege that Medtronic was aware that the devices were dangerous and that they could lead to causing serious injury or death.
Does Medtronic own HeartWare?
Yes. Medtronic purchased HeartWare International in 2016 for $1.1 billion.


What is HeartWare HVAD?
HeartWare Ventricular Assist Device is a type of heart pump. Used by people with advanced heart failure, the device acts as an aid for the heart to pump blood around the body. It is powered by a battery (worn externally) and has a controller system.


Who makes HeartWare LVAD?
Right now, nobody makes HeartWare. Medtronic was forced to stop production and marketing of the device in June 2021 after an FDA recall cited serious issues with the HVAD system.

How long can you live with a LVAD?
It depends on individual circumstances, but some patients can live for up to 13 years with an LVAD device fitted.


What type of pump is HeartWare?
HeartWare is a small centrifugal pump. Because of its small size, it can be implanted through sternotomy or thoracotomy.


Is HVAD the same as LVAD?
Basically, yes. HVAD is a type of LVAD (Left Ventricular Assist Device). However, HVAD is a brand name for a specific type of LVAD manufactured by Medtronic.
Find out if you qualify